iEARN-Argentina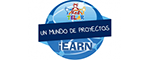 iEARN-Argentina - Red TELAR has been active since 1989. Starting in Patagonia, iEARN-Argentina has worked with the Ministry of Education to expand iEARN to hundreds of schools across the country.
May 30, 2017
iEARN-Latina educators collaborated to create an online multilingual project description booklet, which includes all iEARN projects offered in Spanish, Catalán and Portuguese.
Read More
Dec 12, 2014
Fundación Evolución publishes fifth in series of e-books about the 21st iEARN International Conference in Puerto Madryn, Chubut, Argentina from June 29-July 5, 2014.
Read More